Tim Ahmet Course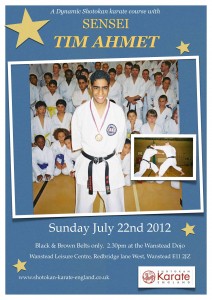 Judging by your comments below, you want more! Here it is; Saturday 15th September at the Wanstead Club.
Tim was an extremely successful Chingford Karate Club Competitor on the local and the National circuit, eventually becoming the Great Britain National Under 21 Kumite Champion.
Ten years later after getting married and having two baby daughters, Tim regularly teaches in the SKE Karate Clubs and Referees at SKE Competitions.
Tim also recently gave a fantastic Kumite course at our Wanstead Dojo. Watch out for more!