Martin Lewis Money Show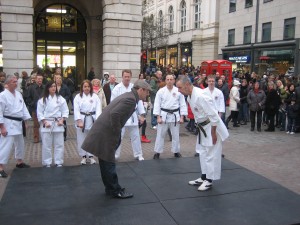 Freezing cold rehearsals in Covent Garden for ITV. Snow was threatening, but there we were, rehearsing for our debut on the popular financial advice programne.
As well as filming with Martin we worked with Saira Khan who was a finalist on 'The Apprentice'. Although having no experience of Karate or the Martial Arts, Saira was a natural – she certainly enjoyed using the Samurai sword. Martin was great, using his credit card for self defence!
SKE Instructors and members Gary James, Darren Taylor, Tony Parlour, Lee Atkinson, Kristina Baraskeva and Jade Parlour all took part in the filming of the 'Martin Lewis Money Show' which will be shown on ITV later this year. Special thanks to Lucy Butler for taking photos and YouTube videos in the freezing cold weather.
We had a day of great fun but it was a long day with little rest. By the time we got to the evening where we were filming at 'Danceworks' in Oxford St, the kicks were drooping somewhat and the stances weren't quite so low.
Some 'Out takes' below;
http://www.youtube.com/watch?v=FFBcW09wSsc
http://www.youtube.com/watch?v=XlAz7EmSe-A