SKE Karate Championships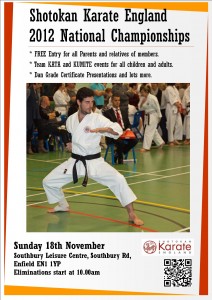 Congratulations and Well Done to everyone who took part in the SKE Championships.
Full results are on our Championships page and there are loads of photos and videos on our Facebook Page.

Leave your comments about the 2012 Championships below. We would love to hear what your day was like.
There were teams from Harlow, Tring, Walthamstow, Chingford, Enfield, Edmonton and Wanstead. Special Congratulation to the Wanstead Ladies and Mens teams. Both teams won Gold in the team Kumite events.