Pool & Track Karate Club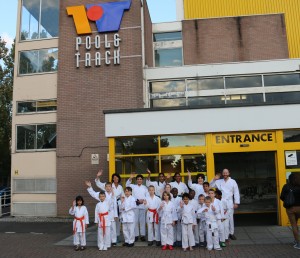 The Walthamstow Pool & Track Karate Club is on the move!
From November 2014 the Walthamstow Pool & Track Club will be based at Frederick Bremer School in Fulbourne Rd, Walthamstow, just around the corner from the Pool & Track. The Frederick Bremer School has made great efforts to support our club and we hope for a long and successful association with this great school.
The Pool & Track is being demolished and after being our Walthamstow base for more than 15 years we are sad to see this iconic building disappear. We held a children's party for our last day on Friday 24th November and the children are shown in the picture below.
As well as our Walthamstow club producing some great Karate Champions, the diving club has also produced some Olympic Champions.